Subway Surfers is a popular endless runner by the Copenhagen-based gaming entertainment studio, SYBO Games. Surprising as it may seem, saying that it is a popular game is an understatement. Co-developed by Kiloo Games, it has been continuously downloaded and played since its official release on May 24th, 2012. Since then, the "World Tour" series has been introduced, updating the game every three to four weeks.
Know more: Best 10 Online Ludo Games
By 2017, Subway Surfers became the very first endless runner game with the most downloads across the globe. Come March 2018, it has reached two billion downloads and has been named the second most downloaded game by AppAnnie statistics.
Then, in December 2019, Subway Surfers gained yet another milestone. It got to the 2.7 billion download mark as reported by analytics company AppAnnie. Around that time, SYBO and Kiloo's endless runner has been ranked as the most downloaded game for almost a decade, from 2012 to 2019. During this time as well, the gaming entertainment has announced the release of its Subway Surfers animated series, which has been well-received by fans worldwide.
How Subway Surfers Came to Life?
Similar to most games, Subway Surfers came from humble beginnings. In 2009, before becoming the world-renowned SYBO Games that it is now, Sylvester Rishøj Jensen and Bodie Jahn-Mulliner won the first prize in the Hamburg Animation Awards.
Their short film showcased a teenage boy who loves decorating the subway with graffiti and is accompanied by his loyal dog companion. With their sneaky stints, they become subjects to an unending chase by a police officer. Three years later, SYBO Games launched what is now the Subway Surfers game that billions of people love.
By this time, however, Temple Run has been reigning supreme in the endless runner games genre even before the launch of Subway Surfers. Giving credit where it is due, Temple Run has clearly set the tone of what running games are now to date.
However, this feat from the fierce competition has not stopped SYBO Games from making Subway Surfers worthy of the competition. Despite only accumulating over 100 million downloads 8 months after its official launch, Subway Surfers started gaining traction thanks to its seasonal updates.
The seasonal updates pave way for improvements such as new characters, modes, and boosters to be incorporated. Because of this, Subway Surfers rose to the top of the endless runner category and reached another milestone.
Read more: Top 10 Best Mobile Games
By 2020, the game ballooned to over 3 billion downloads – the highest number of downloads a game has received since its launch. This is just in time for yet another celebrated milestone, its 10th anniversary since its official release.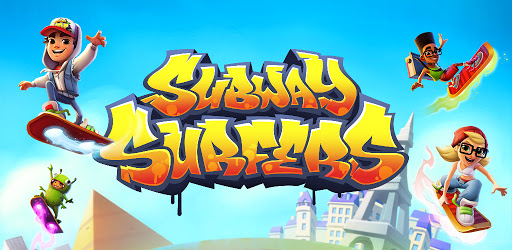 Subway Surfers Characters – Who Do You Want to Surf As?
What do you think makes the game one of the most downloaded games? One of which is its regular updates and new characters added.
Subway Surfers feature different characters called Surfers, most of which are teenagers. However, there are rare instances where young adults are also featured in the game. Aside from the roster of characters, they are also divided into two kinds, namely the time-limited and non-limited editions. As their name implies, the former means they can be bought from the in-game shop for a short period only before getting taken down. The latter, on the other hand, are readily available at any time.
Almost a decade since its official launch, the team of developers behind Subway Surfers has already presented over 100 characters to date. Note that players begin their journey as Jake, the first in-game character.
However, as you unlock coins, event tokens, character coins, and hunt tokens from seasonal maps, you can also purchase seasonal avatars. Additionally, some avatars have custom outfits that you can purchase from the in-game shop while others have none.
Presently, 6 new characters have been released in Subway Surfers since January 2022. The seventh character, Super Jake, will be available in the May 2022 update. For now, here is a list of the latest avatars available to date.
Hasina is the first one released in January 2022. By default, she wears a long-sleeved turtleneck and a blue vest with orange outlines. She also dons a necklace and bracelet, blue sweatpants, orange sneakers, and a blue hijab with an orange headscarf. She holds an orange soccer ball with one hand and has been available for a limited time in the Cairo edition.
Tiger, the second release of 2022, is a time-limited character and the game's rendition of the Year of the Tiger Lunar New Year update. He basically dons a white tiger mask. His brown pants and red top along with his black gongfu shoes are representative of Chinese martial arts in honor of the Lunar New Year, the Year of the Tiger.
Charlie is the 3rd limited character available in the Barcelona World Tour of February 2022. He wears a cyan tee tucked under a pair of beige baggy pants before getting painted with magenta spray paint.
Pink is the 4th time-limited avatar acquirable during the release of the Vancouver map in March 2022. She is an African-Canadian wearing an almost pink outfit. As an homage to the world's recent pandemic crisis, Pink can be seen wearing a white mask.
George is another limited avatar who wears a bunny costume with turquoise shorts and sneakers. He is obtainable during the Oxford update in April 2022.
Dummy is the sixth character of 2022. It is a race car dummy wearing red sneakers and is the first robot-type character of the Subway Surfers franchise. Additionally, it is available for a limited time in the Monaco map edition.
As previously mentioned, the latest character to be included is Super Jake. He is the fourth version of the original avatar after Zombie Jake, Festive Jake, and Pride Jake. He will be available on the release of the Copenhagen 2022 version on May 16, 2022. Whether Super Jake is a time-limited or non-limited character, we will have to see when the update finally comes.
Know more: 10 Virtual Escape Room Games for Kids
World Tour
Aside from the characters, The World Tour updates of Subway Surfers are also one of the main reasons for the game's massive popularity. For starters, these updates are more than just seasonal updates. In fact, they serve as the core of the game's evolution.
The regular release of tours invokes a sense of excitement for fans. That is because, with each World Tour update, fans can anticipate a new twist on every event. This way, developers can successfully execute their goal of keeping the community thrilled. Furthermore, this paves way for playing Subway Surfers to be a continually fresh experience.
To those new to the gameplay, the release of the new characters monthly comes together with new World Tour event updates. Currently, there are 6 World Tour updates since January 2022. These are Cairo, Lunar New Year, Barcelona, Vancouver, Oxford, and Monaco. Fans can expect the latest World Tour Copenhagen event this May 16, 2022.
Also Know: The Best Five Android Games
Subway Surfers – Reaching Another Milestone
This year marks Subway Surfers' tenth anniversary. That means a decade of fun and excitement for the whole Subway Surfers' gaming community worldwide. To be able to get this far without having to create a sequel is a very huge achievement in itself. Plus, to be able to accumulate over 3 billion downloads with millions of monthly players worldwide is a testament to the infamy of Subway Surfers. Where it goes along the road is something fans and anti-fans are looking forward to; only time will tell.