Are you looking to write for us on games related content? Then you are at the right place to contribute articles on gaming topics on PCMoblieGames.
Do you play computer or mobile games like me? Do you love video games like me? Are you interested to share your game reviews about the particular one?
Then why are you waiting? Submit your guest post ideas to PCMobileGames.com.
Write For Us Games, Gaming Reviews & Guides:
We are accepting guest posts for computer/pc and mobile games. We are always looking for good quality articles on the below-mentioned gaming topics either it is online or offline.
The Topics We are Accepting:
Mobile Games (iOS & Android)
PS4 (Play Station 4)
Xbox One/360
PS3
Nintendo Switch
Shooting Games
Action Games
Arcade
Puzzle
Sports
Strategy
Funny
Racing Games
IQ Games
Adventure
Fantasy
Horror
Games for Kids
Music games
Simulation and more
Which Topics We Are Not Accepting:
Articles related to adult, porn categories.
We don't accept the plagiarized articles.
We don't accept articles with grammatical errors.
If articles are not related to the website niche.
Why Should You Write For Us To PCMobileGames?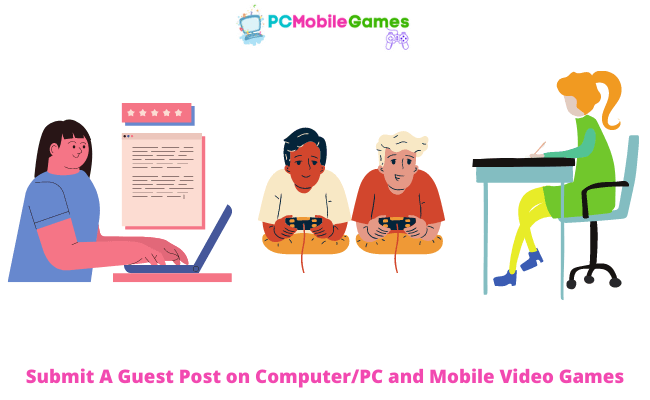 Your article will be exposed to game lovers.
We promote your article to my social networking sites.
You are welcome to submit your review on games.
There is no limit to sending articles of good quality by following our guest posting guidelines.
You can insert your company website link in the article to get traffic from organic search.
If you are passionate about the computer or mobile games, then you can share your game to reach more audiences. If you created any new game, then you can submit your new game to reach more people. It is one of the best platforms to promote your game and make it known to other people.
Write for us games guidelines:
The articles or game reviews must be well-written content.
We don't accept the plagiarized articles which are already published somewhere else.
Articles length must be 800+ words.
It should be plagiarism-free and well-formatted without any grammatical errors.
Attaching images should be original, public domain, or licensed. (No copyright infringement please)
Content should be understood easily for website visitors with good subheadings.
The article must follow the Google webmaster guidelines.
You can insert the high authority websites like Forbes, Wikipedia…etc.
We accept one link to your blog or company website at the end of the article or in the author bio.
You can insert the video embedded code related to the game articles.
Please include an author's introduction.
Related Guest Post Search Queries:
Write for us Games
"games" + "Write for us"
"Submit guest post" + "games"
"Article submission" + "games"
"Guest posting" + "games"
"contribute" + "games"
Write for us Online Games
Write for us Gaming
submit a guest post "Games"
guest post game reviews
If you have any more queries, then don't hesitate to contact us through the below form or to this email id "admin@pcmobilegames.com"